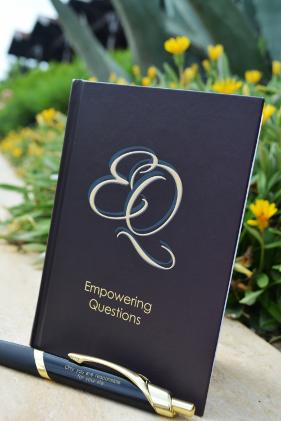 The business that sets your soul on fire, the life of travel that you truly want, the family dynamics you long for are all locked away in this beautiful package.
They're all locked away in YOU.
Every single thing you want? Is locked safely behind the gate that is your brain.
Shift the questions you ask yourself and you unlock them all.
The mighty business that makes an impact on your world and the world around you is there...just ask the right questions and you shall receive.
The powerful love that moves the deepest parts of your soul...is there. Just ask the right questions.
You are so much more than what you give yourself credit for. And you have the power to bring everything you want into creation.
But you have to ask the right questions because your brain LOOKS for questions. It WANTS to serve you answers to what you seek.
So if you seek to understand why you are so lucky, you will discover more misfortune.
If you want to know how you can achieve all you want right now, your brain will serve you that, too.
And that's why I created this book.
To help you ask the questions that will:
Guide your brain to find the opportunities you need it to find so you can achieve success more easily
Show you the path, through awareness, to better eating habits so you can lose weight
Show your brain where to look to find the way to a bigger, more impactful business
No more missing your goals.
No more starting over from the same place you haven't left yet.
No more retreating back to behaviors that don't support your true path.
This is the book to get your brain on the road to the success you are working for.
There are 11 categories of questions to help you find your focus so your brain can look for the answers you need: business, love yourself, money, and more!
If you want to finally get fit?
This book will put your brain and your focus where it needs to be to make it effortless.
If you want a business that explodes with your ideal customers?
This book will put your mind and your intention (AND your actions!) where they are.
If you want to double, triple or even quadruple your income?
This book is a MUST-HAVE to put your brain on focus and execution for success.
You have no more excuses not to
WIN
.
The power of your brain is tucked inside the pages of this book.
**Coaches, this is perfect if you are working to help your clients build an indestructible mindset. Connect with me for pricing on bulk orders.